Soupbone presents,
for the March-April residency,

(re)Visions of Art History
---
Women Attacked by Warriors // War Crimes — collage, 2021
TW: Sexual assault, violence against women

In my collage process, I look for pieces that click together. I keep searching and adjusting until I bring together pieces that were always meant to be together. In this instance, I saw these two pieces and it struck me that I was looking at identical images. Both images depict men reacting to war by physically attacking women in a moment of "passion." Both scenarios dictate that the bodies of women are objects to be used. Both take place in extremely public settings. Both are famous.
Most people can recognize the iconic V-J Day in Times Square by Alfred Eisenstaedt. As a kid, it was my favorite work of art. I had created my own narrative that I believed to be true. I think most people believe the same. That it is an image of two people who are very much in love and very grateful that they get to be together again. The truth is actually quite horrifying. It is an image of a U.S. Navy sailor assaulting a stranger in the street as a means of celebration. The woman is believed to be Greta Zimmer Friedman. In a 2005 interview with the Library of Congress she said, "It wasn't my choice to be kissed… The guy just came over and grabbed me! That man was very strong. I wasn't kissing him. He was kissing me." In 2012 when interviewed by CBS News she stated, "I did not see him approaching, and before I know it I was in this tight grip." Now, when I see this image my heart just breaks. This image that is touted as an image of intense love and romance is really just photographic proof of an assault.

The artist Seward Johnson later created large sculptures of the scene. He titled his work Unconditional Surrender. I remember seeing a version of it in San Diego and standing beneath it at night. A giant replica of an act of violence towering over a public space. It is a tourist attraction. People bring their children there. My heart aches for Greta Zimmer Friedman who had to live her life in a world that immortalized and celebrated her assault.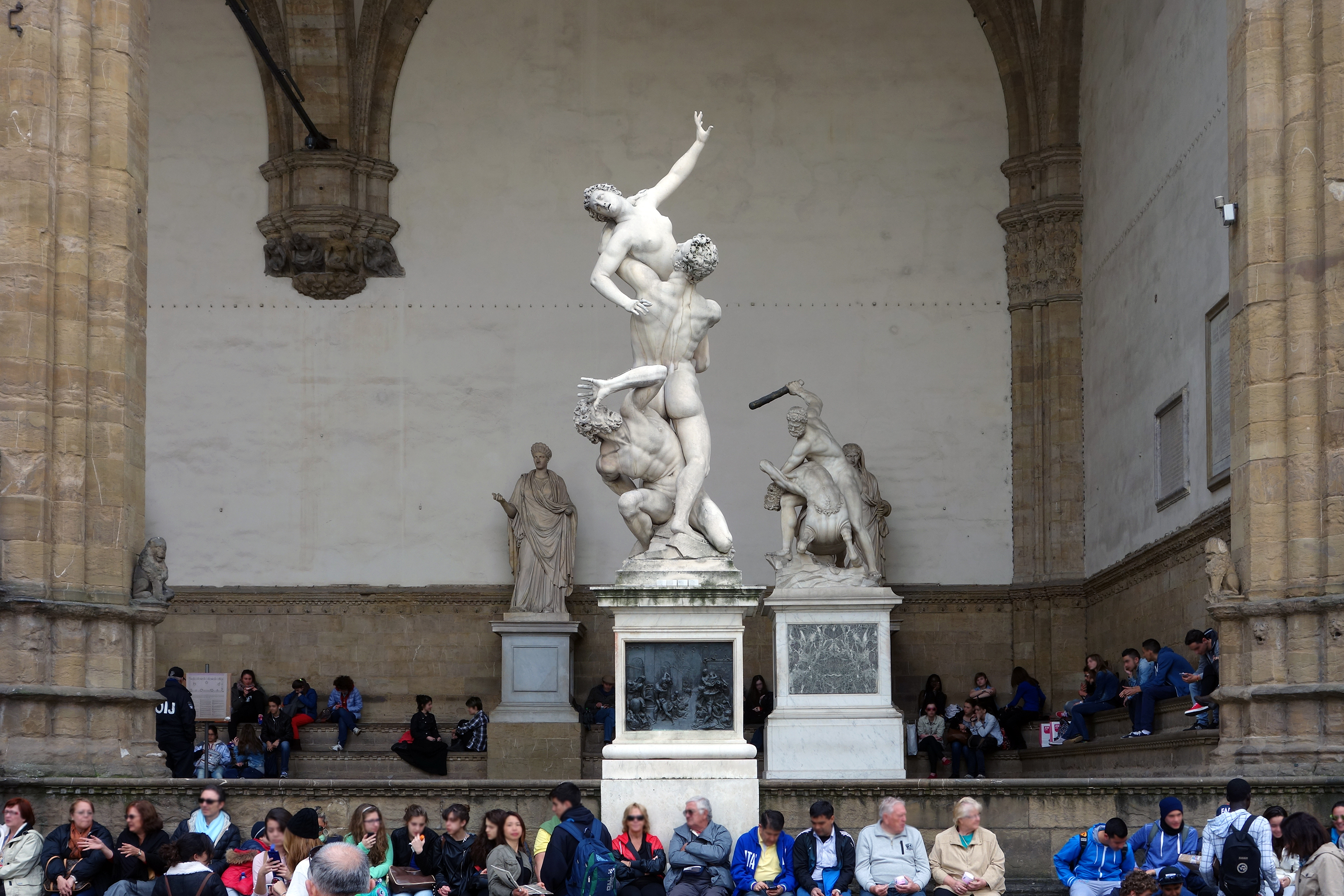 The sculpture by Giambologna in this piece is well known around the world. Its proper name is Abduction of a Sabine Woman but it is more commonly known as Rape of a Sabine Woman. It depicts horrific events of Roman history. In 750 B.C.E., Roman men failed to convince the men in the town of Sabine to give them women from the town so that they could produce more children. During a summer festival, the Roman men attacked the town and abducted the women. Some accounts of the incident from the time claim that the women were merely convinced to leave with the Romans. Because of this, traditional art historians feel free to look at this piece in a blind manner—refusing to see the violence Giambologna is presenting. Regardless of the accounts of history, the piece is a clear depiction of a frightened woman being attacked by a man. Her face expresses such haunting horror. This statue sits in a very public highly visited area in Florence. Like Unconditional Surrender, it is a towering tourist attraction depicting an act of violence against women. It's hard not to look at this piece and hear Greta Zimmer Friedman's echo of, "I did not see him approaching, and before I know it I was in this tight grip."

This piece may be the clearest example of what "(re)Visions of Art History" is all about. It isn't meant to be beautiful. It's meant to be clear. I grew up in the world of art and art history. In many ways, we all do to a certain extent. We live in a very visual world. Art doesn't merely reflect the world—it also shapes it. We look at V-J Day in Times Square and think romance. We see an assault and tell ourselves it is romance. It is an advertisement. Beauty and genius artistry may be the first thing one might think when seeing Abduction of a Sabine Woman. It is what we're taught to see first. We're taught blindness to violence against women. We're trained to paint it over with beauty. This is not beauty. It is not romance. It is propaganda. Once I started to see these messages that sit so clearly on the surface of artwork, I could not stay quiet. It feels like seeing a building on fire. I feel like I'm waving my arms and screaming and trying to alert others who are walking straight in. It feels obvious once you notice. It feels alarming and giant and terrifying. But for the sake of those around you, the best thing to do is point and scream when others walk away quietly.


Citations:
— CBS News. "Greta Friedman, believed to be woman kissed in Iconic V-J Day PHOTO, dead at 92." September 11, 2016.
— Dr. Shannon Pritchard, "Giambologna, Abduction of a Sabine Woman," in Smarthistory, September 8, 2016.
— Patricia Redmond, "Interview Transcript: Greta Zimmer Friedman: Veterans History Project (Library of Congress)" in American Memory, August 23, 2005.
---
I am a multimedia artist focusing primarily in collage, mixed media, and photography. My work centers around the complex creation of identity. All of my work is approached from a historical and environmental perspective. I consider my "(re)Visions of Art History" series to be the greatest presentation of what I strive to be as both an artist and as a person. Like me, its goal is to present the full truth of art history: the good and the evil. My method of creating artwork mirrors my method of academic research. In May of 2020, I received my BA after double-majoring in Art History and Museum Studies with a minor in 2D Studio Arts. After graduating, I began working as a freelance artist, curator, and arts consultant under the name "Preposterous Bee." I now call Wilmington, Delaware my home after living my whole life in Indiana. As I eagerly begin this new chapter of my life, I do so aiming to educate, fight for, and comfort others. My favorite body of water is the St. Joseph River; it is important to note that the river's original and true name given to it by the Miami people is the Sakiwäsipi.